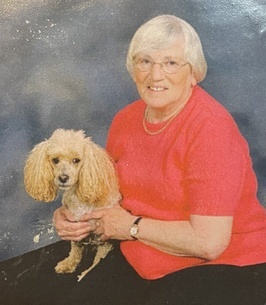 September 24th

Maxine Varey

VAREY, Maxine Frances (Jennings)

Passed away peacefully on Friday, September 24, 2021, at St. Mary's General Hospital, Kitchener.

Maxine was born on December 27, 1934, and was adopted and raised by Bill and Edith. In 1946, Maxine and her mom traveled by ship to England to visit her parents' relatives. Maxine attended school there that year. Her dad gave her riding lessons. Maxine loved riding and jumping, and had the opportunity to ride around the Woodbine Racetrack once during one of her father's business visits there. She loved painting, and spent time making paintings of her horses, and her dogs (her constant companions). She often spoke about her years as a cub and scout leader. Maxine later married Lee. The two of them did not have any children of their own, but Maxine always enjoyed children, often purchasing gifts for children of her friends. Maxine and Lee enjoyed camping, travelling around with their trailer. They also spent time with friends they met on various cruises. Maxine worked at the Toronto Public Library for more than 30 years. After Lee died, Maxine met Tom. She followed Tom to Morningside in New Hamburg and when Tom died, she purchased his home at 7 Evergreen Place. Maxine continued her love of the library as a volunteer at the New Hamburg Public Library until health issues forced her to stop. Maxine's greatest loves were her faith and the many friends she met through volunteer work. Giving was her middle name! She was generous with both her time and her money, supporting many charities worldwide. It was important to Maxine to serve the Lord and to reach out to help others. She will be missed by her many friends who loved her dearly. Maxine in her later years enjoyed spending her time with her companion and friend the late Peter Sartorelli of Morningside, New Hamburg. Maxine was recently a well-loved member of the Wilmot Mennonite Church, New Hamburg.

Visitation has taken place followed by a funeral in the church. Maxine was interred in the Wilmot Mennonite Church Cemetery. Pastor Susan Allison Jones Officiated.

As expressions of sympathy, donations may be made to the Heart & Stroke Foundation of Ontario or the Ontario SPCA, and can be done on the funeral home website or by contacting the funeral home.