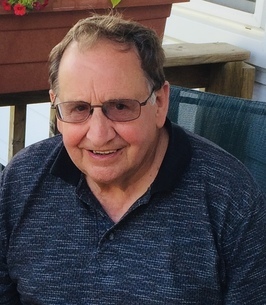 April 16th

Ralph Bean

Bean, Ralph Edward 1940-2022

Ralph passed away peacefully after battling cancer on April 16, 2022, at home in his 82nd year.

Beloved husband of Sandra who he married in 1997. Predeceased by his first wife Martha Shantz in 1995.
Loving father of Alan (Sharon) Bean of Bright, Janice (Duane) Gingerich of Baden, Joanne (Troy) Witter of Hawkesville, and Matthew (Sarah) Bean of Burlington. Cherished stepfather of Jennifer (Greg) Rickwood of Brantford, Stephen (Annette) Birch of Waterloo, Elaine Birch (Ballantyne) of Bright, and Corey (Nikki) Birch of London. Special grandfather to Trevor, Kaitlyn, Kyle and Amber Bean, Cameron, Brayden and Alyssa Gingerich, Shawn, Jason and Ian Naisby, William, Abby and Ezra Bean, Charly and Garyn Rickwood, Kaleb, Keegan and Halle Birch, Paige (Vick) and Avery Ballantyne, and Evie and Brendan Birch. Also remembered by stepgrandchildren Gary Hemstock-Weeks and partner Robyn Armstrong. Ralph is survived by his siblings Catherine Hunsburger (late Floyd) of Waterloo, Marjorie (Wayne) Roth of Elmira, Doris Bean of Baden, Howard (Barb) Bean of Cassel, and Sharon (Alec) Sunrise of Hay River, N.W.T.

Loved and missed by in-laws Lyle Meredith of Chatham, Daniel (Lorraine) Meredith of Kent Bridge, Dianne (Boyce) Libby of Blenheim, Susan (Gary) Stewart of Dresden, Wendy (Roy) Dusten of Erie Beach, and Allon (late Tonya) of Chatham. Predeceased by Verna and Brian Meredith.

Remembered by first wife Martha Shantz's family: deceased parents Susie and Wayne and second husband LeRoy Good, the late Esther and David Shantz, Gloria (Gary) Spencer of Newton, Pauline (late David) Weber of Mildmay, Mark (Monica) of Kitchener, Brenda (late Keith) Shantz of Kitchener, Dale (Doreen) Good of Waterloo, Bob (Sandy) Good of Waterloo, and Carl (Joyce) Good of Newcastle.

He will be remembered by many nieces and nephews.

Predeceased by his parents Gordon (d. 2011) and Lillian (d. 2017) Bean.

Ralph started out by farming with his dad, Gordon Bean, and after marrying Martha Shantz, moved to 4930 Perth East Road 103 in 1971 and started growing pumpkins, sweet corn, and other vegetables which he sold at the market. Ralph operated M N R Tax Service with Martha and then Sandra, whom he married in 1997, and then retiring in the year 2000. Ralph also had many fond memories of working at Dutch Boy and Master Feeds as well.

Ralph led Wilmot Boys Club for 20 years. He helped with Men's Breakfast for years at Wilmot Mennonite Church where he was an active member.

Ralph helped run the apple cider tent at the MCC Relief Sale for over 40 years.

With Sandra, Ralph volunteered every Saturday for 3 years at MCC's Furniture and More thrift store in New Hamburg. Ralph also helped organize the Hidden Acres Handicap Weekend for a number of years and faithfully served every Friday serving drink and snacks for over 11 years at the Ontario Christian Gleaners in Cambridge.

Ralph was also involved in the establishment of the Wellesley Pondview Retirement Community.

Ralph and Sandra enjoyed travelling together. They would tell the children they were going to the end of the driveway and turning right. They enjoyed many trips to the East Coast which included Newfoundland. They also ventured to Australia, Trinidad, Vancouver Island, Florida and many day trips around Ontario. After Ralph's diagnosis, these trips were relived many times.

During the years Ralph and Sandra owned their cottage in Lakefield—10 minutes north of Peterborough—which was on the Trent Canal system—they enjoyed kayaking, canoeing, biking and walking—and of course, fixing up the cottage! On August 9th, 2013, Ralph and Sandra along with friend Margaret Ondrovcik from Chatham, were instrumental in saving the lives of Bill Vanderklugt and his granddaughter, Mackenzie Clements, age 3, from drowning in the Trent Canal system in Lakefield. For their efforts, they received commendations from the Peterborough Lakefield Police Services Board and the County of Peterborough.

On Ralph's precious 12 acres, Ralph and Sandra hosted square dances and pig roasts for Wilmot Mennonite youth group, corn roasts for the neighbors, had soccer and hockey teams, and many family functions.
Ralph enjoyed his grandchildren's sporting events and playing games with them.

For Ralph's 80th birthday, Sandra bought him a red golf cart which he loved driving around his acreage and watering his newly planted trees. Ralph had to learn to share it with his younger grandchildren who loved to drive it as well.

Ralph was also a collector of vinyl records—5000 to 6000 to be more precise!! He also had a collection of 120 trolls!!

Ralph enjoyed reading the 'obits' and reading about people's lives and so approved his own obituary.
Thank you to Care Partners, especially nurse McKenzie, nurse Amy and nurse practitioner Joanne King.

Friends and family will be received at the Mark Jutzi Funeral Home, 291 Huron Street, New Hamburg on Wednesday, April 20, 2022, from 3-6p.m. A funeral service will take place at Steinmann Mennonite Church, 1316 Snyder's Road, Baden on Thursday, April 21, 2022, at 1p.m. with Pastor Susan Allison-Jones officiating. Interment is to follow the service at Wilmot Mennonite Church Cemetery. There will be a time of reception at Wilmot Mennonite Church after interment takes place.

Masks or face coverings are to be worn during visitation and funeral service. For those who wish to tune into the service via livestream, please go to www.smchurch.ca to access link.

As expressions of sympathy, donations to Ontario Christian Gleaners Cambridge or Teen Challenge London would be greatly appreciated or a charity of your choice.