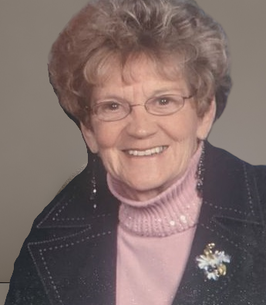 May 23rd

Nelda BRENNEMAN (Jutzi)

Nelda was a cherished and devoted wife to Ray C. Brenneman, celebrating 62 years of marriage. Loving mother of Douglas and Valerie Brenneman, Dwight Brenneman and Paulette West, and Michael Brenneman and Kathy Maucec, grandmother to Tyler, Shea, and Taite.

Nelda will be lovingly remembered by her brothers, sisters in law, and brothers in law; Ken and Joan Jutzi, Mark and Karen Jutzi, John and Juanita Jutzi, Irene Jutzi, Bill Jantzi, Louise Jutzi, Walter and Arlene Brenneman, and by her many nieces and nephews.

Nelda was predeceased by her father and mother, Rudy and Irene (Jantzi) Jutzi, father-in-law and mothers-in-law Christian S. Brenneman, Edna Lichty Brenneman and Reta Gingerich; brothers, sisters, brothers in law and sisters in law; Elaine and Walter Fretz, Robert Jutzi, Lucille Jantzi, Grant Jutzi, Helen Brenneman, Jean and Delton Bowman, and Lois Ann Brenneman.

Nelda lived her life with compassion, integrity, kindness, and love. She devoted much of her time to her family, and friends, ensuring others around her were supported physically and emotionally. She was an integral part of her husband Ray's dream and accomplishment of establishing and building Expressway Motors. Over the years, Nelda held many roles at the dealership as a cleaner, driver, and most importantly, receptionist always eager to provide exceptional customer service.

Nelda was a dedicated mother and grandmother and made it a priority to ensure everyone had what they needed and more. Nelda was an active volunteer with the Nithview Auxiliary, and a long-time member of Wilmot Mennonite Church with strong faith and determination. Nelda had a great love for music, spending time at Chesley Lake, and travelling around the world with Ray. She was a consummate hostess, loved to 'lunch', and had a keen fashion sense.

Relatives and friends are invited to the Mark Jutzi Funeral Home, 291 Huron Street, New Hamburg, on Friday, May 26, 2023, from 2 – 4 p.m. and 6 – 8 p.m. The funeral service will take place at Steinmann Mennonite Church, 1316 Snyder's Road West, Baden on Saturday, May 27, 2023, at 2:00 p.m. Pastor Susan Allison Jones to officiate. All are welcome to join the family at 12 noon on Saturday at Wilmot Mennonite Church Cemetery for the time of interment.

Donations in Nelda's honour can be made to Mennonite Central Committee, Heart and Stroke Foundation, or Harmonize for Speech. Personal condolences and donation information available at www.markjutzifuneralhomes.ca

Read Less

To send flowers to the family or plant a tree in memory of Nelda BRENNEMAN (Jutzi), please visit our Heartfelt Sympathies Store.